Tissue paper is a very versatile material. There are many  crafts and tissue paper art ideas.
The tissue paper activities that I am give you use large sheets of colored, thin tissue paper that are not only sold in crafts stores but, you can often find them in the crafts section of 99 cents stores. In the olden days tissue paper was only white and was used to wrap gifts. You will still find gift stores using the white tissue paper to wrap gifts in. (For an activity using white tissue paper to create different effects see this post on creating your own collage papers.)
I have discovered that there are different kinds of tissue paper tissue. If you want tissue paper that bleeds and dyes the paper under it you will need the type of paper like Spectra Art Tissue Paper
. The ones in the cheaper stores can only be used for activities that you don't want bleeding colors.
They come in an assortment of colors  like this Assorted Color Tissue Pack
 and they even have Animal Print Tissue Paper
.
They come in sheets like this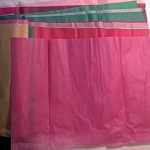 and this is how they look cut up into squares for a project.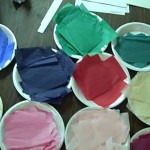 Simple tissue paper activities
When you are doing crafts with toddlers or other young children, one of the ideas is to introduce them to the world of art materials so they can learn about their properties and figure out what they want to do with these materials. One of the first activities I give kids to do with tissue paper is crumple up tissue paper art.
I cut up small squares of tissue paper(very small) and tell the children to crumple them up and then glue them onto their papers. Very often teachers will use this crumpled up tissue paper art to decorate craft items. If they are making pencil holders they may tell the children to decorate them that way as it is very colorful. It also keeps kids busy for a while. Below is a picture that a child drew and then decided to  use the crumpled tissue paper to decorate the picture.
Tissue paper decoupage
Decoupage is the art of decorating objects with various papers and then adding a glass like finish to cover, sealing, and protecting the pictures or objects.The pictures or paper are glued onto the object you want to transform and then covered by a few layers of glue or a special substance specific for decoupage that gives it a very shiny, glassy, decorative finish. Tissue paper is a great paper to use for decoupage.
When you choose to use tissue paper as the paper of choice it becomes tissue paper decoupage. It's beautiful when you do layers but, with little children all they do sometimes is just slap on some papers, and they are done.
You can do it independently as a process only art activity, or you can use it to transform a craft as the children did with their flowerpots below.
Tissue paper collage
Then there is tissue paper collage. If you've been to this blog before then you know how much I love collage as you can see from my post on collage ideas. Collage can go from very simple 3 yrs olds slapping papers on top of each other to more sophisticated art collages. Tissue paper collages  are done by cutting up the paper into different shapes and sizes and let them glue them on in any way or pattern they like.
What the children will start noticing is that their hands can get quite stained from the tissue paper and that the tissue paper acts as a dye and colors the paper beneath it. It also mixes the two colors of the tissue paper that are on top of each other to make a new color.
Once the children notice that the colors in the tissue paper are dyeing the paper below, you can give a collage with tissue paper one day that has no glue involved. The process is the same as when they are using glue except this time they use water to paint onto the tissue paper and then they remove the tissue paper. The color and shape of the tissue paper will remain on the white paper beneath it. They can also experiment with mixing different colors and making new colors.
An older child that was working on a sophisticated art collage noticed this phenomena when she was working with tissue paper for her collage. She therefor, took large swatches of tissue paper and using the technique with the water dyed the background of her picture.
Tissue paper art
In my mind when I hear the word tissue paper art, I think of kids using tissue paper to create art. That can be done along with other materials or with tissue paper alone. In the pictures below I had the children first draw a picture and then told them that they should enhance their pictures with tissue paper. The more mature the children are the better they will be able to do this. It takes some skill to be able to cut and paste to fill in parts they want to use the tissue paper for and this is not for really young children.
They can of course, use other papers as well to fill in pictures but, the tissue paper gives it a translucent quality.
Tissue paper stained glass
Stained glass with tissue paper can also be called sun catchers as they do catch the sun when hung by the windows. The way to make them is as follows. Take a paper plate or in this case it was Styrofoam plate. Cut a hole out in the middle of the plate around the rim. Place a clear piece of contact paper on the back side of the plate. Give the children pieces of tissue paper to put on the contact paper as they wish. When they are done, cover the front with a round pieces of contact paper.
The children can then decorate the rim of the plate with anything you choose. In this case we used puff paints. we then hung a string from it so it can be hung near the window. It really does look like  stained glass when the sun shines through them.
Tissue paper flowers
Tissue paper flowers are the last tissue paper activity I am going to talk about. It is probably the most popular activity with tissue paper that there is around. I think it is because firstly people don't know about the other activities. Secondly, many people  who do art with kids, really need to make something that looks real and flowers certainly look like something.
I will explain to you how to make those ubiquitous flowers. They are really for older children as the younger ones will have a hard time following these instructions but, this is a tissue paper crafts posts and how can I not include tissue paper flowers in it.
The first thing to do is to take a few sheets of tissue paper and fold them together in a fan and then put a pipe cleaner in the middle.
Then you start pulling the pieces of tissue paper up towards the middle of the pipe cleaner one layer at at time. When all the layers are all pulled up, you have a tissue paper flower.
You can use different combinations of colors for your flower and the more pieces of tissue paper you use the fuller the flower will be. Make sure you have the children pull up the pieces of tissue paper as far as they can be pulled.
Do you have any other tissue paper ideas that you do?
Here are some other fun posts you can check out  paper mache ideas or other cool art projects that are all creative crafts
Below is a video that talks about these ideas.