Sewing crafts for kids often conjures up scenes of little children either sitting at sewing machines or pricking themselves with sharp needles.
The sewing projects that I do with children however, use no sewing machines and no sharp needles. These activities  are loved by boys (not as much as girls though), keep the children occupied and busy on a long term project and its a great fine motor activity.
There is one basic type of sewing activity that I start all children off with.
For these sewing crafts you need a few basic items: The  material, the yarn and the needles (and a scissor to cut the yarn)
When I first started out doing sewing with kids, I was using the  Plastic Canvas
 pieces for them to sew on. I used to pick them up at my local Michael s but, you can buy them from Amazon if you don't have a crafts store nearby.
These pictures below were all done on that type of material.
At one point I started giving these sewing crafts projects to even younger children and I started looking for material that had even bigger holes than these plastic canvas pieces.
I started thinking about the hook rugs that are sold and realized that they had larger holes than the plastic canvas's. I went back to Michael's to see what I could find and actually came across these empty grids of material like these Blank Latch Rug Canvas With Grid
. These were perfect as they material is much more flexible than the plastic and the holes were much larger.
The only thing you have to keep an eye on for this type of material is that it can sometimes tend to unravel around some of the ends.What I do to help out that issue is edge the edges with tape.
I actually got lucky one year as a neighbor was giving away all kinds of material and we literally struck gold when we found the stuff below. (aside from the fact that the color is gold)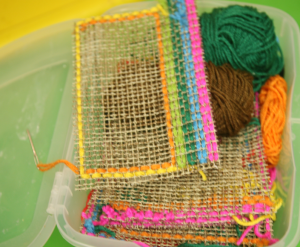 The next thing you need for these sewing crafts projects are needles. The best kind to use are Tapestry Needles
. They are blunt so they don't stick the childrens fingers and they are very easy to work with. There was a period of time that we used the blunt, plastic tapestry needles but, I really don't like them as they bend easily and are just in general very junkie. The silver, or aluminum blunt, tapestry needles are the best for these sewing projects.
Make sure to buy enough of them. We always seem to lose them so it's good to have extra ones around.
The best way to keep them from getting lost is by keeping them in the sewing projects the children are in middle of working on.
The last thing needed to begin the sewing projects is yarn.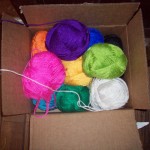 You can buy yarn online or at many of your local big box stores like Walmart or Kmart (if you live in the states). There is no need to buy the more expensive yarns for these projects. There are many very high quality wool and specialty yarns that are sold for knitters but, this is truly overkill in your projects with children.
Do's and dont's in sewing crafts for kids
For the basic sewing crafts with young children it is extremely important for an adult to be very close by. They make many mistakes in the beginning and you need to be there to undo their mistakes. The older children will usually just need you to help them knot their last piece of yarn and start a new piece.
There are two ways that the children can sew when they are going around the edges. They can just keeping putting their needle in the material from the bottom which makes a border for the piece, OR they can just do down and up.
It as a very big skill for young children to see exactly where to put the needle in the right place over and over again. I have found that most 3 yr olds cannot manage this activity especially on their own. However, if they are a more advanced 3 yr old and you sit with them as they go in and out if may work. If you do try it with some young children and you see that they are making too many mistakes then stop the activity and give them some easier sewing activities like I have listed below.
Sewing is an activity that you can do with one child as a great way to spend quality time together. Talk with your child as she or he sews and then be there to help unravel.
I always only did sewing with a  small group. It is difficult to do it with too many children if they make many mistakes. Even if they don't make mistakes, they will still need you to help them so don't gather to many children for this sewing activity at one time.(Of course, one or two children is idea)
Making something out of their sewing projects
Some children like to sew for the sake of sewing. Other children want to make something out of their project. If they know before what they want to make then it may make it easier for you as you can then decide what size and shape piece of sewing material you will give them.
They can start with one color or many, create a pattern and THEN they can create something out of it.
Wallets – Fold over and use velcro to closeinto wallet
Pocketbooks– Same as wallet but, add ribbon or yarn for strap
Bookmarks– Give them small rectangular peices to sew
Frames- Cut out the frame before and have them sew all around
Wall hangings– Just frame the pieces they have sewn
Another idea is something we did with a sewing for a fathers day project
Other easy sewing projects for kids
I am going to give you some other simple, easy sewing ideas below that don't necessarily include all of  the materials discussed above but, may be good for younger children or children who just don't want to use those type of materials.
The children can practice sewing by just going in and out of holes in various materials. You can either using  some of the  blunt Tapestry Needles or maybe even a piece of yarn with a bit of masking tape at the tape to make it easy to maneuver. Punch holes i items like plastic foam trays, cardboard shapes with holes punched around the edges, poster board, paper plates or plastic screening.
Applique: This means sewing pieces of fabric onto another piece of fabric. It can almost be like a fabric collage. If you use burlap for the background material it would make a good fit for this project. The children can use materials of different shapes, sizes and textures.. They can also add things like buttons, ribbon, bells and lace to their piece. Whatever they can't sew they can glue.
Stuffed pillow_ For this sewing project you will have to use thinner needles and thinner yarn. Cotton Embroidery Floss works best for this. The way to go about this is to give the children two pieces of material and have them sew all around the edges. There is no worry in this case about how it looks as you will turn it inside out at the end. When they are 3/4 of the way around, turn it inside out, stuff with Polyfill Pillow Stuffing. The children can then finish closing up the pillow by sewing the rest. You can use a soft cotton or felt for this project.
I hope enjoy your sewing projects and sewing crafts with your students and children.