I started a new class recently to try to continue developing a set of lessons for teaching kids to draw. This small class of mine is going to form the basis for my upcoming course "How to teach your child to draw and do art even if you can't draw a straight line"
I'm always buying or taking new art books out of the library to get new ideas as I refine my course. I was reading this new book I got from the library recently called  Drawing for the Absolute and Utter Beginner
 and I got the idea of using wire to help teach the concept of line from that book.
I started by referring to a handout I got online (see below) about all the different types of lines there are.
We discussed vertical lines, horizontal, diagnol, wavy, zig zag, spiral, dashed, curvy and added in the concept of parallel lines.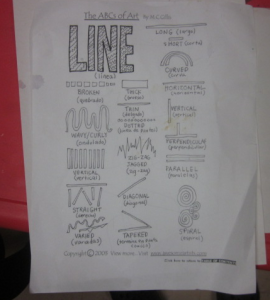 I  had the children do 2 exercises with lines. I called out lines and they had to draw the lines I said and then I had them create long lines across their papers in the lines I called out.
I then introduced them to the wire. It is 24 gauge wire and I saw the differences in the wire when I went to buy it at my local Loews. The thicker gauges were stiffer and harder to manipulate.You can check out this type of wire here Artistic Wire 24-Gauge Tarnish Resistant Silver Wire
This wire is very thin and very flexible.
They each got a piece about 15 inches long and I showed them how they could create different lines with them.
They creates  lines that included curves and then put the wire on a white paper and then copied the wire shape with a pencil.
I had them do this a few times changing the shape of the wire each time.
Drawing simple objects is drawing around the lines of the object and when they will learn to do that by practicing with wire, it will be easier for them to visualize the object as a piece of wire. This will hopefully make it easier for them to draw.
I then wanted to make their line drawings more permanent and fun. As a result I added watercolors to the equation.
They created lines again this time with a white crayon. They then painted watercolor over the lines. This created a resist effect making the lines more obvious.
I then had them do the same thins with their piece of wire.
This time instead of drawing with a pencil, they drew the line of the wire with a white crayon
and used the watercolors again.
This is a really nice way of taking a concept and adding some more depth to it.
I really liked this wire idea and I'm quite curious as to how much it will really help in the future.
What do you think? Have you ever heard of this concept before?