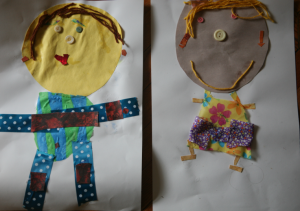 This activity has got to be one of my favorites to do with children. I don't think you can do this with toddlers but, starting with 4 years olds I think it can be done very successfully. A while back I did a post on all about me collages that has a very similar idea but, these are much more advance. (and frankly more fun)
The best way to run this activity is in a few steps. I got the idea for this from the book Beautiful Stuff!: Learning with Found Materials
.
The first thing I did was to cut out large circles for the faces. I gave the children each a large circle to choose from.
They were then given a number of materials to choose from that could be used to create a face.
Please remember that they will decorate according to their age levels. The younger they are, the more random will their faces look and the older the more sophisticated. They may add hair, earrings, hats etc.
I gave the children mirrors to look at themselves to decide what they wanted to put on their faces. Children that are not developmentally ready will not necessarily put on what they see, they will put on what they are aware of.
We did this activity in two days since it takes lots of time plus it allows the faces to dry. The second step can go on the first day as well if you'd like.
The second step is to glue the face to the top of a large sheet of paper (maybe 11×18).
The next step is to give the children a choice of pieces to use for the bodies.
Above is just a sampling of what I gave the children to use. We talked about what they can use the pieces for, but again, they will each create according to their levels.
After they choose what they want and past them down under their face, they get to decorate their bodies. I made an array of materials, buttons, yarns, sequins and ribbons for the children to choose from.
It was one of the most engrossing activities for the children and one of the most satisfying as a adult who loves to give children art. Below are the results from our group.
It is important to try to guide the children only thru the giving of the materials ans some initial discussion about what they will need for their faces and bodies. If you are giving them ideas make sure to give many instead of just one. You will also see that if you do this activity one year with your child and then 2 years later, you will get a vastly different result. I hope you enjoy this activity as much as I did.