Welcome to EduArt 4 Kids.
My name is Faigie Kobre (more personal stuff down below)
This site is my attempt to help parents and teachers teach kids art and give kids great art activities  that are age appropriate even if they don't have a creative bone in them.
I believe that you CAN do art with your kids even if you can't draw a straight line.
Art is not only crafts. There is crafts and there is art. The crafts on this site are educational crafts and the art is educational art. (Hence the name edu art 4 kids) If you want to know the difference between regular crafts/art and educational arts and crafts…subscribe to get my free report on the right.
The interesting thing is that  I am not an artist and I don't even have an art background. I do have a Masters in Early Childhood Education from the Bank Street College of Education , spent years as a preschool/kindergarten teacher and director and do understand children and child development and that's why I can teach you to do what I am doing.
So as an early childhood educator why did I choose art to concentrate on?
Very simple. Good art doesn't just teach children how to be better in art. Or to develop a career in the arts.
It makes them better learners. It makes them more creative, It makes them more fulfilled.
I started this blog to help you teach (or enable) your  kids to become more creative, less timid about their art, more confident about their abilities ('cuz all kids have abilities to varying  degrees, it just has to be nurtured).
As a result they will feel good about themselves and their abilities and will help them become better learners.
I love art and I love kids (not just my own)  and I  want them to be able to get the full benefits that good art gives.
I've learned that you don't need an art background to teach kids art.  You can be an  "art enabler"  which is what I was for a while.
When the kids get ready to start learning about  perspective, shading and more complicated art techniques then its time for REAL art classes.(Or you can watch some of the hundreds of youtube videos there are with art lessons)
Now something about me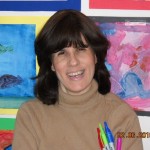 This is the personal stuff .
My name is Faigie Kobre . (hard g)
I have been married for almost 30 years to the same guy. I have 6 kids (youngest is 16), 4 grandchildren (so far) and live in a  suburb of New York. I live in an Observant Jewish community.  If you want to read a bit about what its like living the life of an Observant Jew than you can go over to the Mama Smiles blog where I wrote a post about it that you can check out over here.
I  spent 25 years as a high end portrait photographer working out of my home and am now teaching art, running art classes, teaching teachers and parents how to do art and working on this blog. (which is internet marketing really)
I'm into health because my health depends on it and have gone Paleo in the last year. (no grains, sugar, dairy, soy etc.)
Since I haven't been teaching in a while but, I do post art activities through a few different venues.
For my posts on this blog I post about the activities I do in various classes.
I am teaching art in a new school that only goes up to first grade and I give art classes once  week to a group of first grade girls and still have lots of posts to add in from our art camp in the summer.
I also try to to various roundups of other posts on different blogs, some interesting videos and will keep adding things of interest as time goes on.
I hope you'll join me on this journey of learning all kinds of great art things that you can do with your own kids (or students) and hopefully they will develop the confidence in art and themselves so important to be a successful learner in school (or at home)today.
I am looking forward to sharing my own info and that of other bloggers and experts with you.
As most bloggers, I would love to hear from you on this page or on any other page. Or you can email me at faigie@eduart4kids.com
I would especially love to hear of your own past experiences with art that you feel shaped how you relate to art today.
Thanks for visiting
Faigie
www.eduart4kids.com is a participant in the Amazon Services LLC Associates Program, an affiliate advertising program designed to provide a means for sites to earn advertising fees by advertising and linking to amazon.+Faigie Kobre